How do you turn your head torch into an ambient light?
Spending time on the campsite with your family, but forgot your camping light? Or are you hiking and looking for diffused light in your tent to play cards? No problem at all! You can namely easily turn your head torch into a camping light. We will tell you how.
What do you need?
A translucent bottle. A 2L milk bottle with handle, for instance, or simply a sturdy (plastic) drinking bottle.
Water
Your head torch
How does it work?
Make sure the bottle is nice and clean.
Fill it with water.
Wrap the headband of your head torch around it and point the light into the bottle.
The water in the bottle ensures that the light is diffused. Instead of a head torch you will now be left with a camping light that produces enough light to light up your camping table or small tent. Perfect!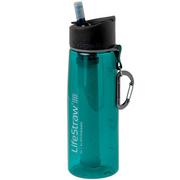 Best Seller