Fenix E28R | Expert Review by Koen van der Jagt
The Fenix E28R is recommended as the alternative for the popular UC30 which is now discontinued. Does this EDC flashlight have what it takes to become a hit as well? I will put it to the test!
Contents
My first impressions:
First impression: nice and small; you won't find a more compact light enhanced with a 18650 battery. The E28R looks great thanks to the shiny black colour and the copper-coloured accents. It feels solid. Especially the head of the light stands out, with the shallow reflector and matted glass that is meant to create a so-called 'soft-beam'. The long clip can be removed but for me it will not get in the way: you can 'secure' the light to make sure it won't slide from your pocket. The E28R feels good and reliable, especially for someone who has held a Fenix light before. To conclude: excellent construction quality and finish.
When and how:
The packaging is clear about this: the E28R is a rechargeable EveryDayCarry light. I agree to a certain extent: the E28R is compact enough to not be too heavy in your (jacket)pocket. The light profile is relatively broad but it is also enhanced with a clear hotspot to make sure it is usable in many different situations. Think of a stroll at night, on the campsite or in the car. But you can also easily use it on your bicycle (in combination with the Fenix ALB-10). Indoors the E28R also works well, but in some situations I think the lowest mode is still too bright. To find your way in a dark room you don't need a lot of light and it can also wake up your fellow housemates. I think the E28R misses an (extra)low mode.
How is the E28R in terms of controls and comfort:
The E28R feels great in hand and provides you with enough grip, also because of the belt clip. The light can be placed on its back and function as a candle. Charging is easy but will take approx. 3 hours if the battery is completely dead. You control all functions with the same side switch and it will never be difficult. Hold it to turn it on or off, press it briefly to switch modes. Hold it for a long time to reach the stroboscope mode, the so-called 'defence mode'. No surprises here; it works as you might have grown accustomed to from Fenix. You can easily check the remaining battery power by pressing the button once when the light is off.
Controlling the E28R is easy also because Fenix hasn't added a bunch of special (flashing)modes. This means that everyone will immediately be able to work with this light. I do think the switch is a little small; if you need to find it by touch you do need to look for it sometimes. That is when lights with a switch on the back are definitely at an advantage.
This is what I love about the E28R:
The size and the versatility are strong points of the E28R. It is nice and compact and very versatile. The broad beam that also has enough reach helps here.
This could be better:
I think the switch is a little too small; as such you won't easily find it in the dark. I also miss a light mode of 5 lumens or less. Indoors this is often more than enough to find your way or read in bed.
Value for money?
I think so! The E28R is solidly constructed and because the included battery can be charged in the light you don't need anything else. So you will purchase a ready-made top-quality product.
My conclusion
Nice and compact, solid light with a usable light profile. Perfect for many daily tasks in and around the house and in the open field. Enough power and a nice broad beam. The lack of a low light mode and the small switch are, in my opinion, things that need to be improved.
Also:
When choosing a flashlight also consider what you love most in terms of controls (side switch or side and back switch). The extensive Fenix family has something for everyone in that respect.
Last, but not least. The beamshots:
The first location is alongside a river where you often find grass and willow trees. A great place to show you all five light modes. You immediately notice the massive leap from Eco to Low in terms of lumen. The light image as discussed before: a broad and even beam with a nice reach.
From the side: especially up close you can illuminate quite a large surface! The even profile is also nicely visible here, you don't see a clear hotspot.
The next location is a young forest. Here you once again see that the E28R produces the most light up close, but you can also clearly see everything that is located further away.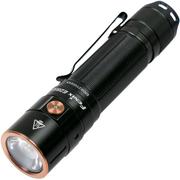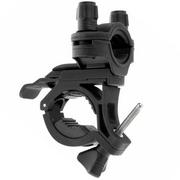 Koen van der Jagt
Ever since he could walk Koen has been interested in lights, wires and batteries. As a child he was always working with dyno torches, bike lights and electrical boxes. The krypton and halogen lights were replaced by LED lights. A couple of years ago he discovered the 'professional' stuff. His first brands were Led Lenser and Fenix. Photography is also one of his hobbies. In addition to nature and meteorology Koen loves to show others what a light can do and what its beam looks like at night. Koen's reviews can often be found on forums such as candlepowerforums.com and taschenlampen-forum.de. Throughout the years Koen has collected lights in practically any category: from small and compact to enormous powerhouses.