Gerber Bushcraft Axe and Hatchet | Review by Padraig Croke
The market for survival tools is huge! Preparedness and self-reliance, terms that used to feel ridiculous, are taken a lot more seriously these days. This opens up a market and a potential to sell to an entirely new base of people. But an axe is simply an axe, quite literally one of the oldest tools known to man. And yet, companies are still coming up with new models, and new ways for us to chop our firewood and build our fences. The Gerber Bushcraft axe and hatchet models are an interesting hybrid, floating somewhere between the functionality and practicality of a traditional Fiskars style axe, something we've seen before from Gerber, but with the 'tacticool' aesthetic choices we've come to expect from their knives. What I wanted to know was whether this was a high quality axe with a cool paint job, or just a bells and whistles attempt to build a product no one asked for. So let's take a closer look at these new models and see how they hold up to the task at hand!
Out of the box
First and foremost I will say that the steel of this axe seems to be top notch! The closed die axe head/handle one piece construction is something we've become familiar with and it's rock solid. The weight of the larger version almost caught me off guard, because I was not expecting such a solid tool, the thick wedge and chunky cheeks make this a substantial tool in your hand. Glancing blows and overstrikes are a surefire way of damaging your axe handle or even breaking it entirely. This is just not going to happen with this axe. Beneath the protective composite covering handle is solid steel, apart from around the throat and palm swell, which I will get into. This seems like a sturdy tool I could rely on!
One thing however, that I was surprised of, was the fact that these axes do not come sharp out of the box. In fact they are completely blunt, and covered in the same powder coating as the rest of the axe head. I was not expecting this, as all Fiskars and Gerber tools I've had up to this point have come razor sharp. So it's definitely worth mentioning, and I spent the better half of an evening with my sharpening tools getting a good edge on these, starting with a 200 grit stone and working up to 1000. If this is something that you are not used to doing, or are apprehensive about, I would say don't let it be a deal breaker for you. The steel is beautifully balanced in terms of hardness, and once sharpened, this thing pops!
I mentioned Fiskars above because, as I'm sure many people know, Gerber is owned by the Finnish company, but there is a great deal of confusion around this online. On one hand, aesthetically speaking, both companies have strikingly similar looking products. The composite handle Fiskars X series and Gerber axes are practically identical, and their Freescape Hatchet is also made in Finland. Gerber have had a bad reputation of poor quality control in the past, particularly in their BG knife range, and people seem to think that Fiskars now produce all of Gerber's tools, but this is not the case. Gerber's main range of quality knives, including the Principle and the Terracraft, as well as most of their multitool range, come out of their factory in Oregon USA. However, these new Bushcraft Axes are made in Vietnam.
Features
As an object, this is quite a cool looking tool! The black powder coated steel, weight reducing porting and rubber overmold grip not only add comfortability and ergonomic ease, but they also give this axe a very modern looking finish. I could see these tools looking great in a 4WD for example. Or perhaps in someone's weekend kit when they favour a more tactical aesthetic. There is no doubt in my mind that these are absolutely solid pieces of kit, and I went hard on them. Not only using the axe for carving and splitting wood, but also as a hammer. The butt end of the head features a great hammerhead and, because of the shape of the handle, delivers a very powerful blow. I will go into that a little later! The sheath for the axe is a simple cordura type material with a durable velcro strap that simply wraps around the head and secures it. It's well built and also features a loop on the top for hanging your axe. The handles on both these axes have comfortable runner grips and the curvature of the handle, as well as the large palm swell, keep these tools firmly in your hand. In both the axe and the hatchet there is a water resistant compartment in the handle that allows for carrying paracord, lighters, tinder, whatever you may like to keep in there. They are solid when not in use, however the piece of plastic rattled about for me when chopping, and so I simply removed them.
Survival buzz words
Bearing in mind that this has no influence on the quality of these axes, I did have a bit of a gripe about the naming and marketing of these tools. There are elements of this that I found misleading and unnecessary. This could be the fact that I'm coming from a more European market mindset, but the main issue I have is the use of the words SURVIVAL and BUSHCRAFT, and how they are so casually used interchangeably! This is honestly unsettling to me. Survival seems to be a hot word now, and it's used a number of times in the copywriting for this axe on Gerber's website. I feel like this is selling fear. Fear that you are going to have to survive some extreme situation at some point in your life, and this tool, thankfully, will save you when things inevitably go south.
"Surviving in the wild takes no shortage of knowledge, a keen awareness, and tools you can depend on when things go sideways. Gear that multi-tasks is key when every ounce is accounted for." – Gerber website
So why is this called a Bushcraft axe? What elements of this tool were specifically designed to facilitate a bushcraft enthusiast? No part of it, for example, is replaceable in the field, as would be the case with a more traditional wooden handled axe. If the inclusion of a secret hidden compartment for a lighter and some cordage (reminiscent of those hollow handle Rambo knives from the 80s) justifies the name, and the main selling point is this feature, then I'm not convinced that whoever created this product understands what bushcraft is, or that they actually felt like they were addressing a need. Rather, they wanted to make a buzzword product with some bells and whistles attached.
The sentiment of bushcraft is about thriving in nature. It's about understanding and connecting to your surroundings, slowing down, learning new skills and having an imagination. Survival is about getting home alive and doing literally anything you need to do to make sure that happens. I would set an entire woodland on fire if I knew I was going to die otherwise and it would signal help for me. They are not the same thing… So let's be mindful of the casual use of buzzwords and concentrate on good quality products. Because the products work. At least in this case. A well-balanced, solid tool, that does not need hidden compartments and buzzwords. People simply want reliable tools. So let's move on to how these axes perform in the field.
Performance
Ergonomically speaking, both of these tools fit really comfortably in the hand and the curvature of the handle somehow puts more weight behind your swing when in use. The rubberised grip and composite materials feel very comfortable and the deeper beard allows for quite a bit of choke up behind the cutting edge. I carved an embarrassingly crude spatula and a couple of tent pegs with the hatchet, and I must say, it was just as comfortable to use as any high end hatchet out there. Furthermore, its edge stayed razor sharp for me. This deep beard isn't so necessary on the larger axe, as the size and weight of the handle would make your arm very tired with prolonged use like this. But with the hatchet model this is a very nice feature, and makes carving and constructing some simple tools like wedges, tent pegs and handles a breeze! The hammer head on the butt of the axe head, as mentioned earlier, is incredibly powerful. I smacked it hard against a number of surfaces and found it to be standing up well, with no sign of the steel mushrooming, something you will often see with softer steels. I also used the side of the axe head for smacking and hammering, as is a common practice when, for example, you're hammering stakes into the ground. I could detect no damage to the composite material surrounding the axe head.
I wanted to push these axes hard, as the look and feel of them, to me at least, are supposed to feel like sturdy and useful tools, capable of holding up to strenuous and non-conventional practices and movements. Again, in my mind, this is where that bushcraft/survival difference comes into play. Bushcraft tool usage is synonymous with a focus on perfecting excellent form and technique. Like chopping wood for example. But with an axe that looks like this, I expect to be able to smash a car window or pry a door open with it… Perhaps I'm over analysing, but in any case both of these tools are capable of punching above their weight and with a few hardwood wedges you could split some pretty heavy logs apart.
On the larger of the two, I found the heavy wide wedge made for an excellent splitting tool! The axe head also has a significant relief in it behind the cutting edge, reducing the amount of steel on wood friction occurring normally when splitting a log. This should, in theory at least, also stop the axe getting stuck as often as you would get with a traditional convex axe head. And this does seem to be the case actually! During my heavy chopping, I had practically no cases of the steel getting wedged in the wood. This makes the large model, in my opinion, a very proficient and tidy splitting axe. With an overall weight of 2.25 kg and a length of 67 cm I would say it's perfect for a woodshed or as a yard axe, but is probably a little too big and heavy to realistically be brought camping.
Conclusion
Honestly, I was very sceptical of these axes when I got them, and the hidden compartment in the handle made them feel like they were going to be poor performers, so I think I probably went harder on these in the field than I normally would when using tools for these articles. But I like them. I like them a lot. Are the new Gerber axes solid? Absolutely! They feel great in the hand, they certainly get the job done, and they'll do it in style. Built like an old Land Rover, these tools would be a great addition to anyone's truck, shed or campsite! I still don't understand why it's called a Bushcraft axe… but maybe that doesn't matter.
Pros
Sturdy construction with one piece closed die head and neck
Comfortable materials and suitable for prolonged use
Weather resistant composite and powder coated steel make this an ideal tool in more demanding conditions.
Well thought out axe head geometry on both axe and hatchet models
Hammer on the butt is very powerful and useful
Great edge retention on steel
Cons
Hollow handle compartment feels unnecessary and a little gimmicky and also rattles slightly with heavy impact blows
Axe head comes blunt, requiring a full sharpening before use
Not a bushcraft axe… more a tactical axe/hatchet
Would rather see a plastic or kydex style sheath
Padraig Croke
Padraig Croke is the host of the outdoors podcast Trial by Fire, which ran from 2018-2023. A graphic designer and photographer by day, as well as an avid outdoorsman and bushcraft enthusiast, when he's not writing for us he's usually out in the field making film or taking photographs.
Promo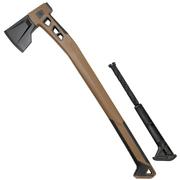 Promo