Benchmade Puukko vs Leuku: battle of the bushcraft knives
Benchmade produces a lot of excellent bushcraft knives. Two of the most popular options are the Benchmade Puukko 200 and the Benchmade Leuku 202. Both with similar origins. But what are the differences? We will compare both models.
Similarities between the Benchmade Puukko and Leuku
Both have Scandinavian origins. Both the traditional Puukko model and the Leuku model come from this region. Originally, of course, always enhanced with a wooden handle. But that is not typical for Benchmade. That is why Benchmade used Santoprene for the handle. Rubber-like, offers enough grip and is rock-solid. Even in extremely cold circumstances. Even the size of the handle is similar.
They also share the same type of steel: CPM 3V. Extremely tough and therefore it can handle the most extreme circumstances. Finally, both come with the same leather sheath with belt loop.
Differences between the Benchmade Puukko and Leuku
Blade length and shape
The most striking difference is, of course, the length of the blade. The Puukko is 9.5 cm long and is therefore also great for fine wood carving tasks. It is enhanced with a slightly more pointed tip for the precise tasks.
The Leuku is 13.2 cm long and, as such, about a third longer. It also has more of a 'belly' in its edge. Especially hunters will appreciate this as they gut game. The longer blade makes it also more suited for batoning wood.
Which of the two will you choose?
They are so similar that making the right choice could be tricky. But we do have some advice: will you also take an axe with you for the more demanding tasks? If so, go with the Benchmade 200 Puukko. Will you only bring your knife? That is when the Benchmade 202 Leuku will be the best choice, because you can also use it for batoning and such because of its longer blade.
Promo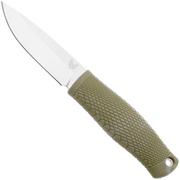 Promo