CRKT Minimalist Drop Point vs Wharncliffe vs Bowie
The CRKT Minimalist collection is one of the most famous knife collections.Popular amongst those who appreciate lightweight, minimalist fixed knives. What distinguishes the knives in this collection is the shape of their blade.In this versus we will tell you exactly how they differ from each other.
In this versus we compare the three most popular knives from the CRKT Minimalist collection. The Minimalist Drop Point, the Minimalist Wharncliffe and the Minimalist Bowie.
The similarities
First of all: the similaritiesThe most striking similarity is the design of the handle with its three characterizing finger grooves. Alan Folts designed it as such that you have enough grip over the knife despite the narrow and slim design.
They also share the type of steel used: 5Cr13MoV. A decent, stainless type of steel that is great for various tasks in or around the house.The sheaths are also the same.With it you carry the knife around your neck with the neck cord, or on your belt, with the included belt clip.The lanyard at the end of the handle is also the same for each knife.
The differences
The blade:
So what truly distinguishes the knives is the shape of their blade. The shape can affect how you use the knife.
A drop point-style blade is, because of its design, very versatile. This shape is common and great for EDC: every day carry. Where you are confronted with many different cutting tasks.
A wharncliffe style-blade has a straight edge. Like a stanley or peeling knife. This shape is great when peeling a piece of fruit or opening boxes.
A bowie-style blade is derived from the classic American Bowie knife. This shape is great for daily tasks and gutting game. The pointed tip is great for precise cutting tasks or to pierce through thick material.
The conclusion
In the end it comes down to the blade which version of the CRKT Minimalistic will suit you best. Are you looking for an all-rounder? If so, the Minimalist Drop Point is the best choice.Do you prefer a straight edge?The Minimalist Wharncliffe will be the best option. Are you looking for a knife that looks cool and is very functional?Choose the Minimalist Bowie.
Whichever way you look at it: the looks of the knife are key as well.Because let's face it, everyone has their own taste and preferences!
Promo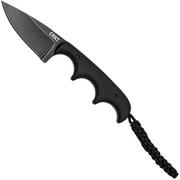 Promo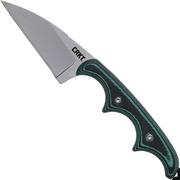 Promo