Head torches for at home: versatile and all-round torches
In and around the house there are many things you can use a head torch for. As such a good head torch can always come in handy. Especially in winter, when the sun sets earlier, or when a fuse blows a good head torch can be indispensable. That is when it is great to keep both hands free. You don't need a beam that reaches far, but one that is broader. As such you cannot only see well yourself, others will also see you. Perfect when walking the dog, for photography or working in and around the house.
Head torches for walking the dog
It is always nice to take your dog for a long walk. You do, however, need to make sure you see enough in the dark. A head torch is the perfect solution. It enables you to keep your hands free to hold the leash, but also when cleaning up after your dog it is great to keep both hands free. But you also need to pay attention to your own safety. If you use a good head torch you also make sure people can see you. On dark roads this is a must.
Head torches while working in and around the house
A job in the crawl space, fuse box or underneath the hood of your car. You know, dark places where you often need to keep both hands free. A compact head torch that can handle its own is the perfect solution. Low power for up-close, but also enough power to quickly find tools that are located further away.
Head torches as emergency lighting
Are you looking for a flashlight that is only used in case of an emergency? If so, choose one that works with a CR123A battery. These batteries namely have a storage warranty of 10 years. They also won't leak which is a great plus for an expensive head torch. If you don't use the head torch for a while: remove the batteries or loosen the back of the light. Even if you don't use the light, it still draws power from the battery. By officially breaking the connection you know the head torch can quickly be used again.
Are you not sure if these are the right lights for you? We are happy to help you with our head torch buying guide.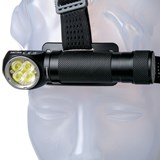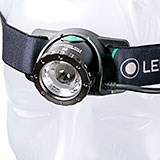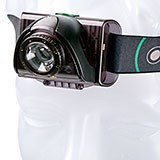 <![if !IE]> <![endif]>