Pocket Knives & Multitools
Case Knives: traditional pocket knives, handmade in the USA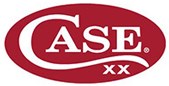 Case Knives pocket knives have been made by hand in Bradford, Pennsylvania, USA for over a hundred years. When you think of traditionals you think of Case. These classic pocket knives are sometimes also lovingly called the knives your grandfather would have used. People often say that Case Knives are the most collectable pocket knives in the world.
Case makes pocket knives using all the traditional 'patterns'. Think of Stockmans, Sod Busters and Trappers. Patterns that can be enhanced with different materials for, for instance, the handle. Almost anything is possible. As a result hundreds of different pocket knives are made at Case at the same time. From very small to relatively large. Characterizing for these traditionals is that specific models are made for very specific purposes. Think of a pocket knife designed to skin muskrats.
Each knife is assembled, finished and sharpened by hand. As a result you can often find the hand of the maker in the pocket knife. The natural materials also differ per knife. For this reason it is often said that each individual Case knife has its own character.
Case XX: the story behind the double X
On each Case pocket knife you will find two x's inside the logo. This dates back to a time when Case was a pioneer when it came to heat treatments for blades. When a blade had completed the first stage of the heat treatment, hardening the blade using very high temperatures, an X was added to the blade. When stage two was subsequently finished, tempering the steel, an additional X was added. Definitely a nod to the old processes once carried out in the Case factory.
History of the W.R. Case Knives
In 1889 the long story of Case Knives began when the four Case brothers started making knives. They were located alongside a wagon trail in the state of New York and soon were able to reach a large group of loyal fans. It didn't take long before the brand and the production grew. Throughout the years Case continued to grow and turned into a world-size knife brand.

<![if !IE]> <![endif]>